Message from the Board Chair
NNPDF Community,
Recently NNPDF Executive Director, Joslyn Crowe, and I attended the annual WORLD (We're Organizing Research on Lysosomal Diseases) scientific meeting. This 16th annual meeting has grown to be the largest of its kind in the world with over 2000 attendees. This is my third WORLD meeting, and the focus on Niemann-Pick was significantly higher than previous years.  
Dr. Melissa Wasserstein spoke about her NIH-sponsored, comprehensive newborn screening pilot program "ScreenPlus." This study will screen newborns in several NY hospitals for approximately nine lysosomal storage diseases including both ASMD and NP-C. The NNPDF will be an active participant in this pilot, providing support to newly diagnosed patients and families.  Pam Andrews from the Firefly Fund and I are members of the Community Advisory Board. We anticipate this pilot to be very helpful as we work to expand newborn screening for Niemann-Pick diseases. A presentation by the Firefly Fund on its NPC Newborn Screening Working Group and the "ScreenPlus" program will be part of the NNPDF Community Update Webinar Series.
In the NP-C space, there were posters highlighting clinical data on several investigational compounds (adrabetadex, arimoclomol, and Trappsol Cyclo) that are currently being studied through FDA-approved clinical trials in the U.S.  Cyclo Therapeutics, Mallinckrodt, and Orphazyme will be sharing information on their clinical programs during the upcoming Community Updates Webinar Series. In addition, Dr. Marc Patterson presented biomarker data in NP-C patients receiving arimoclomol.
In the ASMD space, Dr. George Diaz presented preliminary data from the pediatric ASCEND trial. Dr. Margaret McGovern's team presented data on the natural history of ASMD. Dr. Melissa Wasserstein delivered a symposium on ASMD diagnosis and disease burden, and Dr. Ed Schuchman spoke about ceramide as it pertains to the pathophysiology in ASMD during his symposium. Sanofi will also be sharing information on their clinical program in our webinar series.
Shaun Bolton reported on data from the first 6 years of the International Niemann-Pick disease Registry (INPDR). Interest in the INPDR within the rare disease community continues to grow because of its unique design: entirely patient-owned and global. Your participation will be critically important in maintaining and expanding the value of our registry. The NNPDF will continue to champion the expansion of the registry in the U.S. We will be sharing more information in the coming months about how you can ensure you get enrolled in both the Patient and Clinical arms of the registry.
Joslyn and I were able to meet with the scientific, clinical, and industry leaders in our community. We will be reporting back to the NNPDF and INPDA boards in the coming weeks. Both of us left the conference with a sense of excitement about the positive results we saw as well as the productive interactions we had. If you have any questions, please don't hesitate to reach out to me or our NNPDF staff.
Best wishes,


Justin Hopkin, MD
NNPDF Board Chair
jhopkin@nnpdf.org
NNPDF Community Update Webinar Series Launches, featuring Orphazyme
Join us as Orphazyme presents in the NNPDF Community Update Webinar Series on Sunday, February 23rd at 2:00 pm EST/11:00 am PST.
Speakers and panelists for the webinar include Kim Stratton, Orphazyme CEO, Thomas Blaettner, Chief Medical Officer, Molly Painter, President Orphazyme, U.S., Marc Patterson, MD, Professor of Neurology, Pediatrics and Medical Genetics at Mayo Clinic and Regan Sherman, Orphazyme Patient Advocacy Relations Lead.
This will be the first webinar in the 2020 NNPDF Community Update Webinar Series, a series designed to provide hour-long updates on issues impacting U.S. Niemann-Pick disease families, including clinical updates and educational updates on issues relevant to our community. Join us LIVE when possible to see the full webinar—the Question & Answer discussion can only be seen at the live presentation. All webinars in this series will be posted online following the event for viewing at any time throughout the year. Registration is required in advance for each webinar.
Rare Disease Week on Capitol Hill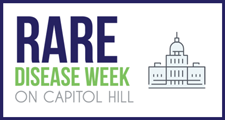 What is Rare Disease Week on Capitol Hill?
Rare Disease Legislative Advocates (RDLA), a program of the EveryLife Foundation for Rare Diseases, will bring together over 800 patients, caregivers, and others in Washington, DC for a week of events dedicated to empowering patients, families, friends, and healthcare professionals to become legislative advocates. During the week of February 24 – 29, 2020, rare disease advocates will have an opportunity to meet with Members of Congress and to learn about policy updates and best practices for successful advocacy.
Why is Rare Disease Week important to the Niemann-Pick disease community?
As part of the Niemann-Pick community, we are all advocates and our voices matter. Building awareness about rare diseases like Niemann-Pick disease is so important, and Capitol Hill week is a great opportunity for our voices to be heard.
Rare Disease Week is an opportunity for our community to increase awareness, learn about policy updates, and educate our policy makers about the challenges we face, and needs that we share, in living with Niemann-Pick disease.
NNPDF Advocacy Stipend
A limited number of stipends were offered by the NNPDF to Niemann-Pick individuals or caregivers to attend Rare Disease Week on Capitol Hill in Washington, DC from February 24 – 29, 2020. Congratulations to the following stipend recipients: Margo Frey, Gail Koujaian, Anne OConnor Smith, and Shannon Reedy. We are eager to read the summaries of their learnings and experiences in the March issue of the NNPDF Newsletter.
Rare Disease Day – February 29th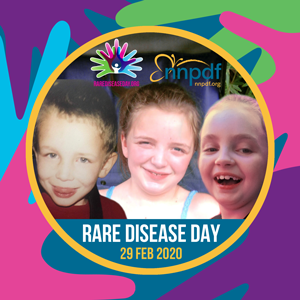 To raise awareness for Niemann-Pick disease and Rare Disease Day the NNPDF has created a custom frame for your Facebook profile pictures. Also, please feel free to display and share the NNPDF Rare Disease Day Facebook banner to promote awareness.
To add the NNPDF Rare Disease Day frame to your Facebook profile picture:
Go to facebook.com/profilepicframes and log in to your page.
Search for "NNPDF Rare Disease Day 2020" frame and click selection.
Click "change picture" in the upper right of the frame window to change your photo if desired.
Adjust to fit by using slider at bottom of frame, set duration preferences if desired and click "use as profile picture" button.
You may also do this by selecting "update" on your profile photo from your profile page, select add frame, and search for the "NNPDF Rare Disease Day 2020" frame.
NNPDF Family Support & Medical Conference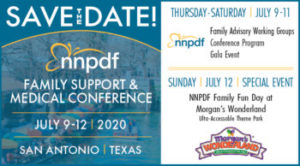 Registration details will be coming soon for the 2020 Family Support and Medical Conference! Conference program dates are July 9 – 11, 2020 in San Antonio, Texas, with a SPECIAL EVENT you don't want to miss on Sunday, July 12th.
Sunday, July 12th, the NNPDF is planning a Family Fun Day at Morgan's Wonderland, Ultra-Accessible Theme Park. This is a time for families and friends to gather and HAVE FUN in a worry free environment. Morgan's Wonderland was designed with special-needs individuals in mind and built for everyone's enjoyment. Morgan's Wonderland offers 25 ultra-accessible™ attractions, sprawled across a 25-acre oasis of inclusion. From a wheelchair-accessible Ferris wheel to catch-and-release fishing, there is truly something for everyone to enjoy!
The NNPDF has shared an Agenda at a Glance for our conference programming overview. More details will be provided in upcoming days. In the meantime, please include Sunday, July 12th in your family conference travel plans! Click here for more details about Morgan's Wonderland.
CONFERENCE REGISTRATION OPENING SOON!
Dr. Ed Schuchman
Genetic Disease Foundation – Francis Crick Professor
Vice Chair for Research Department of Genetics & Genomic Sciences Mount Sinai School of Medicine
NNPDF Scientific Advisory Board
Dr. Schuchman is The Genetic Disease Foundation – Francis Crick Professor & Vice Chairman for Research in the Department of Genetics & Genomic Sciences of the Icahn School of Medicine at Mount Sinai in New York. He received his Ph.D. in Human Genetics from Mount Sinai in 1983, and after completing a postdoctoral fellowship in molecular genetics at Yale University, returned to Mount Sinai as a faculty member in 1986. His laboratory has been studying the biology of lysosomal enzymes and storage diseases for over 30 years, resulting in the first isolation of the genes encoding several lysosomal enzymes, including acid sphingomyelinase (ASM), and the first DNA-based screening for ASMD. Based on his work, clinical trials of ERT for ASMD are also underway. He also co-founded Plexcera Therapeutics, where he served as the Chief Scientific Officer and developed the first ERT for Farber disease (acid ceramidase deficiency). Together with his wife, Dr. Calogera Simonaro, Dr. Schuchman also re-purposed a drug called pentosan polysulfate (PPS) for the mucopolysaccharidoses. The National Institutes of Health and other organizations have continuously funded Dr. Schuchman's research since 1986, and he is the recipient of an NIH MERIT award for his work on ASMD. He has published over 225 peer-reviewed basic research articles and 50 reviews in the area of lysosomal biology and disease, and frequently lectures around the world on these topics.
What inspired you to begin working in the field of Niemann-Pick disease?
I was first inspired to work on Niemann-Pick disease in 1986 as a new faculty member at Mount Sinai when I was introduced to a child with NPC. This left a profound impression on me, and shortly thereafter I began reading about the disease. From this I realized that the biology of NPD was very poorly understood, and that there were only a small handful of laboratories in the world investigating it. Even the relationship of what we now know as ASMD and NPC was not clearly understood at that time. This presented a remarkably interesting scientific challenge to me, and one where I could see that with some hard work and luck my research might make a difference.
What changes have you seen in the field of NP research throughout your career?
Having worked on NPD for over 30 years, the changes I have seen are nothing short of remarkable. As mentioned above, when I first started in this field we still did not have a clear understanding of the difference between ASMD and NPC, and there were no reliable tests to diagnose patients. Of course, the genes had not yet been isolated for either disease, there was no animal model for ASMD (only a mouse model existed for NPC), and no disease specific treatments were being developed. This has all changed, first with the isolation of the genes and identification of mutations, followed by the production of the recombinant ASM and NPC1 proteins, the construction and further development of animal models, and the use of these animal models to evaluate new treatments. Along with these developments came commercial interest and partnerships, which led to clinical trials and has transformed the field of NPD research to where it is today.
How did you come to be involved with the NNPDF?
I first became involved with the NNPDF in the late 1980s, right around the time the organization was being formed and coming into its own. By then my research had begun to focus on ASMD, and as one of the only individuals working on this disease I was in contact with many patients and families from around the world to help educate them about the disease and offer assistance. Many were frustrated because of the small number of family support groups and the lack of information that existed at that time, and in particular the ASMD families often felt alone since most of the groups were focused on NPC and it was very difficult for them to find information and support on ASMD. This led to my early involvement as one of the first scientific advisors to the NNPDF and the NPUK, and later to a large number of the other international NPD family support groups, with the goal of bringing the ASMD and NPC communities under one umbrella.
What do you enjoy the most about your professional role and your volunteer role with NNPDF?
Without a doubt it is coming to know the patients and families and developing long lasting relationships with many of them. This is something that as a laboratory scientist many of us do not have the opportunity to do. I have always found these relationships incredibly motivational to me, and something that I relate to as a father with a child with a chronic disease. I have also felt very satisfied that for the most part the NPD support groups around the world have taken our advice and included ASMD under their umbrellas. I continue to believe that this is extremely important from a support, advocacy and fund-raising perspective, especially for extremely rare diseases such as ASMD and NPC, since there is power in numbers and the NPD community can have much greater influence working together rather than apart.
What do you think the future of NPD looks like?
I strongly believe that we are entering an era where disease-modifying therapies for these diseases will become a reality. However, it is also unlikely that any one therapy will address all aspects of these highly complex diseases, so we will continue to see new research aimed at improving these therapies and examining combinations of drugs in controlled preclinical and clinical trials. This will require continued funding, and for this the NNPDF and other family organizations will continue to play an incredibly important advocacy and educational role. I also believe that newborn screening for these diseases is likely to be implemented, which is important from a treatment perspective but also presents a challenge to understand when treatments should be initiated and to justify this to the reimbursement agencies. This is likely to be an important area of clinical research in the future.
Meeting the Newborn Screening Requirements
The NPC community is engaged in a multi-stakeholder effort to add NPC to newborn screening lists across the country. Since adding any new condition to these lists would mean that any newborn would routinely be screened for a certain disease, it's essential to demonstrate that the benefit to public health is greater than any burden to a family or to the larger public health system.
The federal government maintains a list of diseases and conditions that they have determined meet the standards for being included. That list, known as the Recommended Uniform Screening Panel or the RUSP, serves as the "Gold Standard" for states across the country that look to the federal government for advice when considering what to add to their own screening lists. In order to be included on the RUSP, a sponsoring organization must complete a nomination form that answers very specific questions regarding a condition's "readiness" to be added. One of the questions asks for evidence that demonstrates the urgency of treatment. The application reviewers need to know how essential it is to identify a particular condition at birth so that an intervention can take place. Specifically, the RUSP nomination form asks, "How soon after birth must treatment be initiated to be effective?"
For NPC, this is an important and challenging question to answer. While there are several clinical trials ongoing to investigate the efficacy and safety of possible medications to treat NPC, we are still awaiting a first approval in the United States. Related to the gap that exists in an FDA-approved therapy, is the answer to the question of "when to treat." To help gather the necessary evidence and expert opinion on this matter, the Firefly Newborn Screening Working Group has initiated the help of a Clinical Roundtable. This Roundtable is comprised of experts who are working to gain consensus regarding the timing for initiating treatment for patients positively identified with NPC following newborn screening. It's important work that the Working Group not only believes will be essential for the quest for newborn screening, but also in the quest to improve clinical care for patients.
2020 WORLDSymposium: Justin Hopkin, Board Chair and Joslyn Crowe, Executive Director recently attended the WORLDSymposium, designed for those around the world interested in learning more about the latest discoveries related to lysosomal diseases. Leading scientists from were selected to present their research findings including NNPDF Scientific Advisory Board members Dr. Melissa Wasserstein, Dr. Marc Patterson, and Dr. Ed Schuchman. Also in attendance were representatives from the INPDA and the INPDR.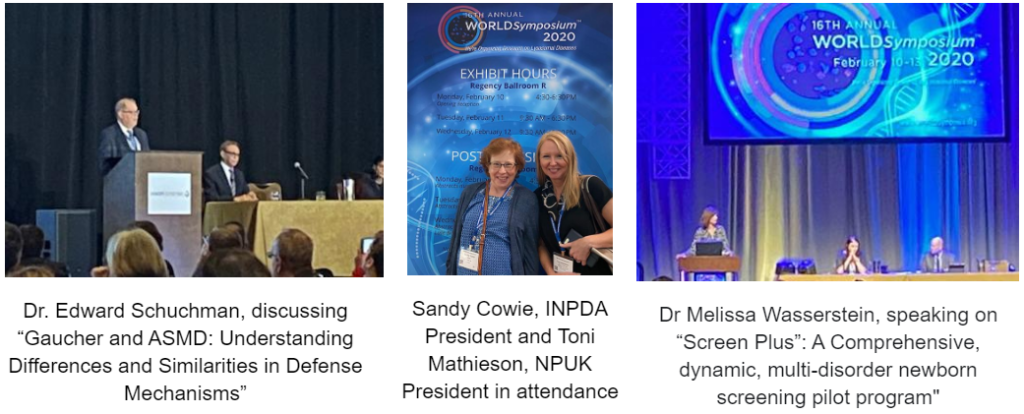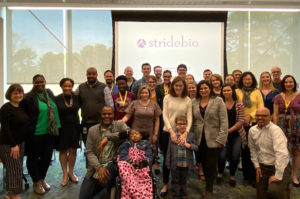 2020 StrideBio NPC Awareness Event:
Thank you to StrideBio for hosting NNPDF at their NPC Awareness event. Niemann-Pick families shared stories of their NPC journey with the StrideBio team, and were updated on StrideBio's work in gene therapy. NNPDF community member presentations were given by the Ferguson, Kingsberry and Marsh families.

Clinical trials are currently in progress to study and develop treatments for ASMD and NPC. The NNPDF posts new information regarding clinical trial updates as soon as it is received. Visit our Clinical Trials web page for up to date information on all clinical trials.
Updates from Cyclo Therapeutics:
Cyclo Therapeutics, Inc. announced that it has completed patient enrollment in its Phase I/II trial to evaluate the safety, tolerability, and efficacy of Trappsol® Cyclo™ administered intravenously to NPC1 patients. Click here for complete announcement.
Cyclo Therapeutics, Inc. announced that the last patient has undergone the final assessment in its Phase I trial to evaluate the safety and tolerability of Trappsol® Cyclo™ administered intravenously to NPC patients. Click here for complete announcement.
Cyclo Therapeutics, Inc. poster presentation of clinical trial data on Niemann-Pick Type C disease at the 16th Annual WORLDSymposium now available. Click here for complete announcement.
Update from Sanofi Genzyme:
Sanofi announces positive topline results demonstrated by olipudase alfa, the first and only investigational therapy in late-stage development for ASMD. Click here for complete announcement.
Fundraising & Awareness Opportunities
Contributions through fundraising by NNPDF members, families and friends are used to provide services and information to individuals and families affected by NPD, as well as supporting research into finding treatments. Please continue to host and support NPD fundraisers. Awareness Events promote awareness to the general public about Niemann-Pick disease. Click here to view current and past fundraising and awareness events.
Facebook Fundraisers
THANK YOU to those of you who have already hosted a Facebook Fundraiser! Are you interested in hosting? It is a great opportunity to raise awareness and funds for the NNPDF. If you are hosting a Facebook fundraiser please email the NNPDF Central Office at nnpdf@nnpdf.org to let us know.

Jamberry Niemann-Pick disease Nail Wraps
Show your support in the fight against Niemann-Pick disease with these custom Jamberry nail wraps. 30% of all sales will be donated to the National Niemann-Pick disease Foundation for family support services. Click here for ordering details. Available year round.
Have you hosted a fundraiser for NNPDF recently?
Send us your photos and we'll share them and details from your event in upcoming newsletters!
A quick reminder that if you are not receiving our NNPDF monthly newsletter via email or have recently changed your address or email, please click here to join us or to update your information.
Supporting one another. Supporting our community.