Mom to Belle & Abby, NPC
Firefly Fund, Co-Founder and Executive Director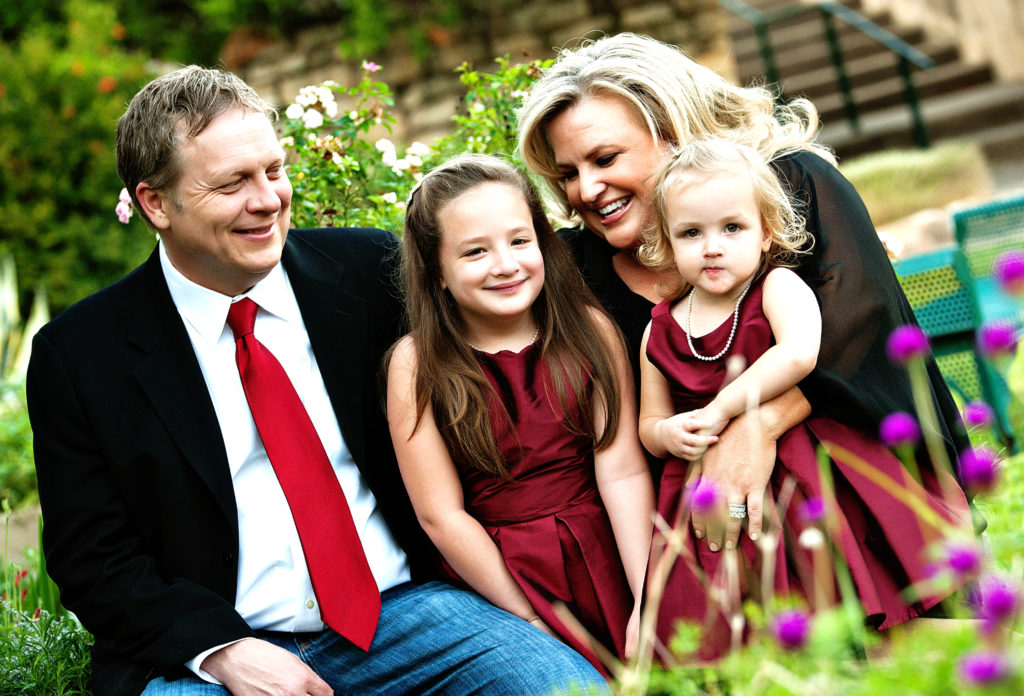 Tell us a bit about yourself.
My name is Pam Andrews. I'm a sixth generation Texan and was born in a small town just outside of Austin called Brenham, Texas. You may have heard of it before, as it's the home of Blue Bell Ice Cream. My parents met when in graduate school at the University of Texas at Austin. My mom had just graduated from law school and the only job she could find after graduation (1972), as a new female attorney in Texas, was working as a secretary in a law firm in Brenham, Texas. I have three sisters (Lisa, Jessica and Leslie) and a brother (Sean, who passed away just seven months ago).  We didn't stay in Brenham long and moved back to Austin when I was three years old. Growing up in the 70's and 80's was a bit idyllic, to be honest. My siblings and I would play outside with neighborhood friends for 6-8 hours at a time on the weekends. Our bicycles got us around and we walked to and from our neighborhood school during the week. My parents worked hard and a lot and my siblings and I looked after each other. I remember using a kitchen stool to make dinner for my sisters. I wasn't tall enough to see the top of the stove so I would get a step stool and stand on it and make dinner that way. I was probably seven years old. My grandfather (and great grandfather actually) were both doctors in Ft. Worth, Texas and Alpine, Texas. Truth be told, that was really my only exposure to healthcare or the medical profession when I was growing up. Grandaddy made house calls, delivering babies at home and I remember that he pierced kids' ears in his office. There was the occasional penicillin shot when someone was sick, but otherwise it was delivering babies and piercing ears. My father, later in my 20's, was diagnosed with and died from Cancer. I definitely came to understand that people get sick. However, if you had told me in 1978 or even 1994 that I would later have two beautiful daughters who would both be diagnosed with a rare genetic neurodegenerative disease, I would have thought that you were certifiable. As a young girl, I would have never fathomed this life.
I live in Austin with my husband, Chris Andrews, our two beautiful daughters, Belle (12yo) and Abby (7yo) and our two miniature poodles, Lady and Lucy. For fun you will find me taking walks in the neighborhood with my dogs or hanging out in our backyard, by the pool with my girls, and spending time with the little family that Chris and I have made. The girls are filled with joy and laughter and they truly enjoy life and enjoy talking with people in their little lives and they laugh hysterically at each other's wild antics. They love music and singing and being silly little girls. It is my greatest joy in life, and honor really, to be Belle and Abby's mama. It is what I enjoy the most in life.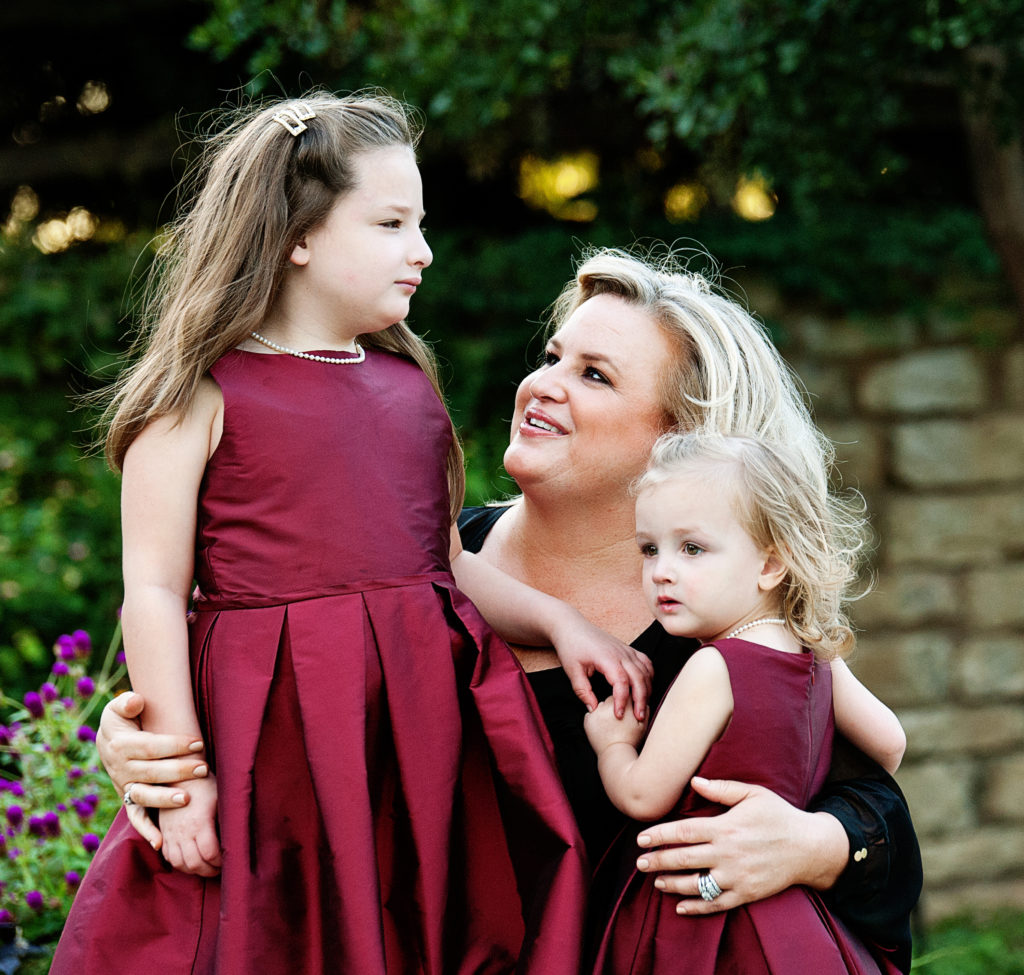 When did you receive Belle and Abby's diagnosis and what led to this?
Belle was diagnosed first after a diagnostic odyssey that spanned several years and included countless appointments with doctors and specialists. Leading up to Belle's diagnosis what concerned us the most was her tripping and falling, which seemed to be getting worse with each passing day. Belle's platelets were also always low and her spleen was enlarged. Those were the early signs that kept me tossing and turning at night. And she developed a tremor at about 3yo. For years I was told that she was within the normal range and not to worry. I was a first time mom so I didn't have a neurotypical child as a reference, but something inside of me kept nudging me to continue pressing for answers. My nieces and nephews and Belle's friends would come over and I would talk with other moms and no one seemed to have the same types of symptoms that we were seeing.
Finally, we met with a young doctor who was also a mom – she agreed with us that something wasn't right. Her name is Dr. Amy White and she is now on the BOD of Firefly Fund. Belle was about 4 1/2 at the time and Abby was about 9 months old.  Belle's diagnosis was eventually made through whole exome sequencing. It was suggested that we test Abby immediately, she was 18 months old at the time and had absolutely no reason to believe that she also had NPC. It was terrifying. As you might imagine, our pain more than doubled with Abby's diagnosis, just 10 days after Belle.
How did you learn about NNPDF?
We learned about the NNPDF really slowly after diagnosis. Initially, the day of our diagnosis, we were given a Make A Wish form and told to take the girls to Disney World and to enjoy them. The doctor made it clear that there were no approved drugs and nothing that could be done. The only information that was given to us was a one pager on NPC and the Make A Wish form. We left the doctors office and made some calls to immediately take steps to form the Firefly Fund. Initially, we thought we were going to have to figure it all out on our own. Over the course of the next few months we had countless calls with NPC families and researchers and clinicians. We were so relieved to learn from some of those early conversations with members from the NPC Community that there was a patient organization and several mature family-led, patient inspired organizations that had been funding research for over 25 years.  We began to feel the weight of the girls' diagnosis lift. We realized that we didn't have to do this by ourselves.
The NNPDF was in the middle of a transition when we were diagnosed. They were looking for a new leader and for a Board Chair. I think we first met Joslyn and Justin in 2018 and that is when we really began to get to know and work with the NNPDF.  It was through the newborn screening work that Firefly Fund does that I began to really understand the significance and importance of a national patient organization in a rare disease community. The NPC Community's interactions with the healthcare stakeholders like the medical profession, with regulators, with public health officials, with drug developers and companies, all rely on a healthy patient organization. The work that the NNPDF does is vital to the overall success of the NPC Community.
Why is newborn screening important to the Niemann Pick community and what difference can it make in the future?
Newborn Screening is a public health service that reaches 4 million babies born in the United States each year. The newborn screening program ensures that all babies are screened for certain serious life-limiting conditions at birth, and for those babies with the conditions, it allows doctors to start treatment before some of the harmful effects happen. Newborn screening is performed soon after the birth of your baby, and in most cases, while you are still in the hospital. Specific protocols for newborn screening follow up vary from state to state, as does the list of conditions screened for.  
It is my opinion that newborn screening is the single most important public health program that exists worldwide. As Belle and Abby's mom, I understand first hand the horror of watching your child slip through your fingers while searching for answers.  The diagnostic odyssey that NPC families are forced to travel is barbaric and unnecessary in 2022. Newborn screening will provide families with information about the health status of their newborn, which will allow for early intervention. We know, and there is consensus among NPC expert clinicians, that early intervention in the NPC patient improves health outcomes. Chris and I live this reality every single day in our home as we watch the trajectory of our two daughters' lives go in two completely different directions due to the fact that one was diagnosed before any visible signs or symptoms of the disease and one was not.  
Shortly after our diagnosis, Chris and I sought out the counsel of someone who has become our dear friend and mentor, Dr. Philip Reilly. At the time in 2016, I'd just finished his book, Orphan: The Quest to Save Children with Rare Genetic Disorders and I wanted to hear his perspective regarding where he thought there were unmet needs in the NPC Community. Dr. Reilly was the first person to encourage us to focus on newborn screening for the NPC community. He wisely explained to us, from the perspective of a venture capitalist mixed with his experience as a clinical geneticist (he has a law degree, as well), that if NPC patients can be identified at birth then what will happen as a result is that NPC patients will have plenty of treatments in no time. He explained that newborn screening for NPC would accelerate the drug development process because we would be helping "them" to help us. 
In addition to finding our patients early, newborn screening is important to the NPC Community because it will help researchers and clinicians better understand the incidence and prevalence of the disease. And data collected through newborn screening pilot studies, such as ScreenPlus in New York, will help us better understand the heterogeneity of the disease and how the variability in onset of NPC patients impacts families and the public health system. Through newborn screening, we are essentially introducing a whole new disease to the medical community – doctors, hospitals, payors, drug companies, regulators, labs, and the list goes on.  We've all witnessed over the past two years the havoc that a new disease state can wreck on the healthcare system and for teeny tiny, ultra rare disease groups like NPC, the onus is on the NPC Community to demonstrate that we are ready to be in the public health service referred to around the world as newborn screening.  
The process is long and arduous. There is zero room for errors. We can not misdiagnose newborns. We have to demonstrate that our short and long term clinical follow up protocols improve health outcomes for those patients identified at birth. Once we are able to identify our patients early, before any visible signs or symptoms of the disease, we will see improved clinical trial outcomes, which will lead to therapeutic approvals and maybe even therapeutic options for our loved ones.  
How can families get involved with newborn screening efforts?
I think the most important thing that families can do is to look for ways to advocate for newborn screening for NPC at home. Every state health department has a newborn screening advisory committees and in all 50 states there are rare disease parents on those committees. I sit on the Newborn Screening Advisory Committee in Texas. As I mentioned earlier, newborn screening lists vary from state to state.  Ultimately, we will need NPC to be added to every single state newborn screening list. Right now, through ScreenPlus, the NPC Community is collecting evidence necessary to be added to these lists. Once we are added to the RUSP, which I believe can happen within the next 3-4 years, we will need to immediately turn our attention to the states. Anything that parents can do to ensure that NPC is "in line" for inclusion on the various state lists would be helpful. We will add this to the agenda for one of our upcoming working group calls. Please let people know that they can reach out to me if they are interested in joining.
Another thing that NPC families can do from home is sign up for the AllStripes sibling study where data is being collected and analyzed for health outcomes for siblings diagnosed at different points of disease progression. The evidence collected through the study will provide data to the newborn screening advisory committee that will decide if NPC meets the criteria for early intervention. It is really important that families sign up for this study and it can be done from the comfort of your home computer by clicking here.
What advice would you share with newly diagnosed families?
Don't forget to breathe. Focus on the things that bring you joy rather than on the things that you can't change or control. Don't be afraid to pick up the phone and reach out to other families. Ask a lot of questions. If someone is upset with you for asking too many questions, ask more questions. You are not alone and you don't have to travel this rare journey alone, if you don't want to. Reach out to families that have traveled the road before you and allow them to share their experience, strength and hope with you. The NPC Community is resilient and strong and committed to moving NPC into a new and different public health paradigm. None of us can do this alone and thank goodness we don't have to.
What are your hopes for the future for your girls and for the Niemann-Pick community?
Gosh, everyday my focus and hope for my girls is that they are happy and that they know with every fiber of who they are that they are loved and cherished and absolutely adored. I hope and pray that they know that their life has purpose and meaning far beyond their NPC diagnosis. I hope they never let their NPC diagnosis define who they are. I hope they laugh often and that they rest easy knowing that Chris and I will be there beside them on this journey every step of the way. I believe that in Belle and Abby's lifetime we will be able to render NPC a chronic disease. We have the tools necessary to do this in the NPC Community now and I believe that if we all work together, we can accomplish this goal. I was talking to another NPC mom just yesterday and we agreed that finding a drug cocktail to render NPC a chronic disease seems like an easy feat compared to the education and awareness that is necessary for stakeholders to move NPC into the healthcare system. The good news is that we don't have to do it all in one day, but rather one day at a time we need to keep putting one foot in front of the other and doing the important work that we've been called to do in honor of those who came before us, for our loved ones and for those yet to be born with an NPC diagnosis in their future.   
I believe that the NPC Community should feel proud of all that has been accomplished in the past 25 years. I look forward to seeing what transpires over the next 25 years.
Supporting one another. Supporting our community.