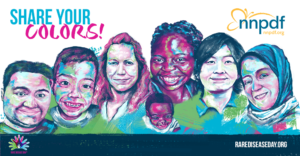 Each year for the past 15 years, the Niemann-Pick disease community has joined with patients, families, healthcare professionals and advocacy organizations around the world to recognize Rare Disease Day (RDD). On the last day of February, we take this special opportunity to show our support for our own community and for the over 300 million people affected by rare diseases. RDD is an opportunity to help more people learn about the impact of rare diseases and call for more research and programs that can make a positive difference. This year's theme, "Share Your Colors", reflects one of our core values at NNPDF – our commitment to elevating all of the voices in our community in an effort to build broader awareness of Niemann-Pick disease.
One of the most important ways to build awareness of Niemann-Pick disease is by sharing stories from our community. From the earliest symptoms to receiving a diagnosis and then living with Niemann-Pick, the experience can be extremely emotional and challenging. While it can be difficult and sometimes scary to talk about personal experiences, sharing our stories can have a profoundly positive impact. As we join together to build awareness:
More people will learn about Niemann-Pick disease.
More people who are at risk will get screened and diagnosed.
More reporters will report on the important issues that affect our community, including the need for research and access to treatment.
Legislators will understand the needs of the Niemann-Pick community.
More attention will drive more resources to our community.
NNPDF will be an even more active and effective advocate supporting patients and families.
At NNPDF, we work closely with caregivers, family members and people living with Niemann-Pick disease in outreach efforts throughout the year. We are available to help you share your story and have the impact you want to have. Your actions can support education, highlight the need for more research and access to treatment, and help others to manage the physical, emotional, and financial challenges of Niemann-Pick disease.
Showing our colors also means demonstrating the amazing strength and resilience of so many members of the Niemann-Pick and broader rare disease communities. These efforts are reaching and influencing many stakeholders, including researchers and industry and government leaders. These efforts also help ensure that our community is represented in important decisions about treatment and standards of care. We are determined to ensure that you always have a seat at the table and that your story is being heard.
For those of you who have joined in the effort to raise awareness in the past, know that your efforts have made a tremendous difference. For those of you who want to join in these efforts, NNPDF will be here to guide you and support you on every step of your journey. If you are interested in learning more about the opportunities to share your story, please do not hesitate to reach out to us at nnpdf@nnpdf.org. Let's show our true colors together.
Supporting one another. Supporting our community.