Amy Pender – Wife to Dallin and stay at home Mama to Sienna (9), Isabelle (6) and Leo (2) raising our family in Arizona. In my free time I enjoy spending time with family, the outdoors and currently going to school for my Real Estate License.

Life With a Child With a Rare Disease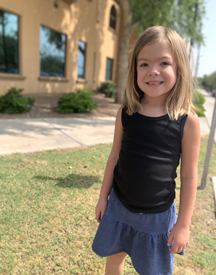 Wow! November already! Even though most of our year has been spent at home due to the current events in our country. Time really has flown by. We are still full time Homeschooling (we even recently created a "homeschool room". Isabelle attends gymnastics weekly and recently some of her friends have joined as well! The temps are cooling down in AZ, so now its time for us to enjoy the outdoors and take our school time and learn in the beautiful weather. We hope to make a few trips to Northern Arizona this fall and winter and enjoy the snow!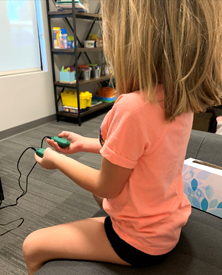 We started a new path this month with Isabelle and her journey with ASMD. She recently started seeing a Child Trauma Therapist. We have always had our suspicions with certain occasions or situations, but recently due to all our time at home things were started to stand out and since ASMD is a lifelong diagnosis, this is something that she will have to learn to cope with forever. She was diagnosed with PTSD from Medical Trauma. Isabelle at around 1 years old started her diagnostic journey that took almost 18 months to determine her condition. We lost count a couple of years ago with how many blood draws, evaluations, doctor appointments, but somewhere in the 100s. Of course, there was going to be some sort of emotional response but since she was basically a baby/toddler at the beginning of this journey, we never really endured her thoughts or emotions about the situations. We love the therapist we are working with, all of her therapy is through play, so it is something Isabelle loves to go to, which was our first concern, another doctor or another appointment, she isn't going to want to go, but thankfully with it being play therapy she's all in. This part of the journey really has really opened our eyes and a new understanding of what life with a child with a rare disease is. We once thought we would be all better once we got a diagnosis, well that didn't happen, so then it was once we got access to join the clinical trial, well that has been a permanent band-aid, but we have now learned of the emotional aspect of the disease and the realness of it for Isabelle. 
We wanted to share this part of our journey and Isabelle's story because we feel like the mental health aspect of the disease hasn't been talked about enough. Especially with a growing child that was diagnosed at birth yes everyone thought we/she would be lucky because she wouldn't know differently or wouldn't remember the early years. Well, we have learned quite the opposite. I would love to hear from others and what they do for their mental health in regard to having a rare disease or a child with a rare disease.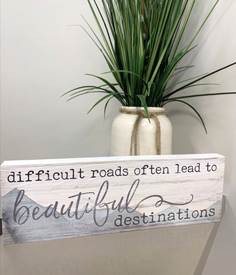 A Journey of a Thousand Miles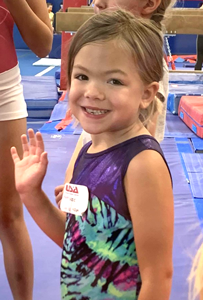 It is a journey we never signed up for, a journey we never in a million years saw coming but it is a part of our journey. It's been years since we were introduced to a rare disease called ASMD or Niemann Pick Type B disease. So much to learn, so many questions and so much unanswered still to learn. The what ifs constantly creeped in. Isabelle was meeting her milestones, but behind others her age but always has shown such determination to keep up with others (she is competitive like her Dad). She thrived in her Physical Therapy appointments always impressing her providers. As parents, we tried not to put her in a protective physical bubble but with ASMD the unknowns were always much larger than our confidence in Isabelle's physical abilities. Then a glimmer of hope and possibly change to our scary rare disease bubble happened, the trial happened, the medication happened, and changes were happening. 
Our once tight little protective bubble started to diminish. Isabelle's strength was overpowering our fears of accidents, falls, crashes and boo-boos. You could see body changes, her once super enlarged tummy disappeared, her legs and arms once thin and fragile looking, now gained muscle tone and thickness. Her stroller that once went everywhere with us was hung up and put away in the garage, she was walking everywhere! 
She had blossomed into this fierce delicate butterfly. She is strong and tough like any other kid her age, maybe faster, stronger, and tougher than most. She recently was enrolled into gymnastics, following her "big sister" and friend Kaila (also with ASMD). She has viewed videos of Kailas and wants to do what she can do. We signed her up, she was evaluated, and has already skipped the first level! Her determination is always fierce, she is super competitive with herself, wanting to land that cartwheel, or that back bend. Seeing her body being able to do things we once thought would never happen, we sit in awe and watch every practice and every move she is doing. To think that she once was labeled "failure to thrive" and struggled walking a few steps to now she is walking across a high beam and flipping over on a vault!
We have learned with a rare disease diagnosis there isn't one typical path you follow, there isn't a box that you will be put in, and that's where you will stay (a lesson we have learned for all of our kids). It is a journey of a thousand miles, with bumps and turns along the way. But with a child with a rare disease they will be the ones to show us the way to live. We will apply the lesson of loving the journey and not looking for the destination and take it as it comes and continue to focus on what makes us happy and how to best set up Isabelle for success in what makes her happy in her life.
Back to School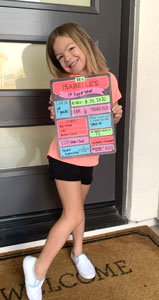 Another month has passed us by during the pandemic. A lot of changes we all have had to endure as we wait for the world to return to normal. For Isabelle, she didn't get to finish her first year of elementary school. She was doing so well, and it was one of the best outlets she had going for her since being a part of the clinical trial. It was something that she got to do that was like "normal", like the rest of the kids. 
Although, as spring break was ending, somewhere in the system, paper work was missed and we were flagged as being truant (missing too many school days per the school district policy) due to Isabelle either needing an infusion that couldn't be accomplished on the weekend, or it was a quarterly visit, or she simply caught some yucky germs and we kept her home to rest and not pass around germs. It was another unfortunate experience that comes with having a child with a rare disease. I will spare all the detail's but the letter was pretty nasty. To some reading this, you think ok no big deal but to a parent that has had to fill out paper work after paper work and have it all filed correctly to then get a nasty gram in the mail later accusing you of truancy for your child who was missing days due to get lifesaving treatments- your patience level begins to wear thin.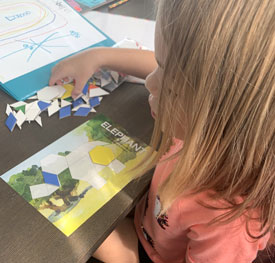 Unfortunately, Arizona is still considered a hot spot and has had to make some serious decisions what return to school looks like. So as a family we made the choice to go a new route with education and homeschool our school age kiddos. 
Another big change to what is typically, a normal childhood "right of passage" is now looking different once again for Isabelle. However, we have learned to look at the glass half full rather half empty. Our oldest daughter first pointed out that now that we are homeschooling, we won't have to worry about Isabelle missing any school and getting nasty letters. Good point! Now, we are able to be 100% flexible with her infusion schedule and not have to worry about missing anything academically for this school year.
Isabelle misses her dear school friends and in-person school experience's, but we are also now seeing her thrive and get the one on one attention academically. We will make the most of every day with Belle and support her growth. 
Milestones!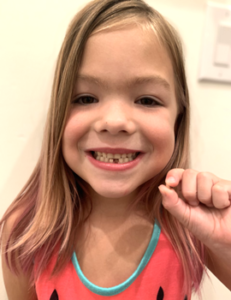 Isabelle hit another milestone losing her very first tooth! While well behind her sister and friends first tooth coming out, Belle continues to learn delayed gratification as she waited and waited with anticipation for the tooth fairy to visit her pillow at night. Watching her reaction to finally be one with the tooth fairy arriving was so worth the wait. It seems not only for her but for us as her parents – every milestone just has even more meaning behind them.
Her tooth was beyond ready to come out, but she wasn't comfortable with us trying to pull it out. So, we watched several videos online of creative ways to take out your first tooth. She settled on the old "tie it to a string and a door and slam it shut trick"! She didn't even flinch or let out one tear – just celebration and lot and lots of giggles! We LOVE her giggle, everything is always a celebration or a party with her! Her bravery continues to shine as she takes things in life head on with a smile, more questions, but ultimate faith that she will be ok through it all.
And yes, as soon as she lost the first tooth, she is already anticipating the 2nd. Isabelle continues to teach us every day as she learns her way each day.
Pender Family Journey
Hello, we are the Pender Family! Our 6-year-old daughter, Isabelle Faith was diagnosed with ASMD in June 2016, two days after turning 2 years old. We were on the diagnostic journey for over 18 months. Countless doctors' appointments, blood draws, and specialists and no answers. It wasn't until I found Niemann-Pick disease after months and months of doing my own medical research that we pushed for this to be tested again (they had ran another test earlier that came back with a false negative, thus moving this way down the list of possibilities). Finally, after completing a genetic panel was Isabelle diagnosed. Luckily, we tapped into the ASMD community immediately, even before we had a confirmed diagnosis. We learned of a Pediatric Clinical Trial in NYC through more personal research. With much persistence, about 6 months after her confirmed diagnosis, she secured a spot. As of March 2017, Isabelle has been receiving the clinical trial study drug Olipudase Alfa every other week intravenously. She has also helped tremendously in this study going through every test, blood draw and measurement they have asked to support this getting approved.
Isabelle recently graduated from Self Rescue Survival Swim lessons (ISR). Her coach really didn't understand Isabelle's medical condition that was listed on her medical background since Isabelle poses as a "typical child" in appearance. During Isabelle's first lesson the coach commented on Isabelle's strength and stamina for a 6-year-old, saying she was amazed at how strong she is as a beginner swimmer. Isabelle graduated at 4 weeks from an up to 8-week course!!
We told the coach we were so happy to hear her accomplishment and sat a bit in shock when thinking about her journey and beginning. Isabelle, since 1 years old had hypotonia, was unable to walk unassisted until 2 years old and was considered "Failure to Thrive" before her accurate diagnosis. Her belly was extremely extended, and she wasn't creating any body fat or muscle due to the nature of the disease. Isabelle attended weekly Physical Therapy for strength and independent walking for over 18 months. Slowly after her infusion started we noticed a change in her strength, energy, physical stamina and appearance.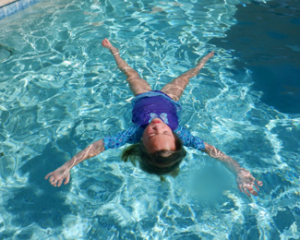 We used to think that Isabelle would always be somewhat delayed in any physical activity and potentially behind the curve. She had so much to catch up on, especially at an early age (not walking unassisted until 2.5 years old). It's hard to express in words the pure joy we feel from seeing your child shift from the inability to walk to seeing your star graduate from an intense physical swimming program ahead of schedule. We are so happy when Isabelle is perceived and treated like a child and not one that has a "medical condition" or limitations. She passed this all on her own with hard work and listening to her coach and rocked it out showing us there are no limits to what she can do when she puts her mind to it.
Supporting one another. Supporting our community.