Message from the Executive Director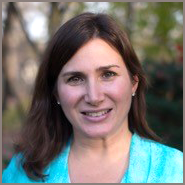 Dear Friends,
I'm excited to announce that the NNPDF Conference website and registration for the 2020 NNPDF Family Support and Medical Conference are OPEN! As you'll see, this year's virtual conference events will bring you all the NNPDF Family Support & Medical Conference session you love… from the comfort of your living room. Mark your calendar from July 10-12th and join us for a keynote address from Dr. Kathleen Donohue of the US Food & Drug Administration, ASMD and NPC clinical updates, COVID19 Effects & Impacts on the Niemann-Pick Community panel discussion, family support break-out sessions and more!
With this conference, we are launching an NNPDF app! You'll use it first for the conference and then throughout the year for updates and interactive new content and programs. Be sure to sign in to the NNPDF app for the conference and interact with one another and with our sponsors.
This year's Family Advisory Working Groups will take place on June 28th from 1:00 – 3:30pm EST a week prior to the start of our Family Support & Medical Conference. The Family Advisory Working Groups are a way to provide a voice for communication between patients, caregivers, their families, and the pharmaceutical industry, to provide guidance on the patient and family experience. Stipends of up to $350 will be paid to participants for their involvement. Read more about these here.
Even though our conference and events will look a bit different this year, we will continue to provide opportunities to reconnect and build stronger bonds with one another in support and encouragement. Although we are joining together from our homes, we still come together as one Niemann-Pick community and continue our tradition of supporting one another.
We are 11 weeks into our new normal of COVID19, and we have heard from many of you that our increase in Family Services programs offered has been helpful. We will continue to provide virtual spaces for these small group discussions and we will modify the content to meet your evolving needs. A special thank you to Cora Sterling for her weekly StoryTime – you have played such an important role for the children in our community, and also for the parents who were able to get some work done, or just take a break, during this hour!
Please remember that our Emergency Hardship Program is available for families in need. We are deeply appreciative of our sponsors who help make this program possible.
In a few weeks, you will see a request from NNPDF to take part in an important community survey of the U.S. Niemann-Pick disease community to help us better understand the patient and healthcare provider experience in Niemann-Pick as it relates to health insurance knowledge, coverage, as well as the challenges experienced by patients and their families pertaining to access of medications, services and devices. The survey will also allow us to better understand where the community may need more tools or assistance in understanding the complexities of health insurance. The data gathered from this national survey will provide a credible quantitative platform for NNPDF when speaking with legislators, key opinion leaders, and media about access to medications, pricing, economic impact, or legislative reform. Your input is important to us!
Please remember to take a moment to build a pyramid and be part of our #NNPDFPyramidChallenge2020! Post and share your creative pyramid on your social pages. Go big or go small. Use #NNPDFPyramidChallenge2020 and @NNPDF in your caption to be entered in a drawing for one of three $50 Amazon Gift Cards! You can enter as many times as you like! Don't forget to challenge your friends to "Do or Donate $20" to the NNPDF to help support Niemann-Pick families. Remember to tag #NNPDFPyramidChallenge2020 and @NNPDF.
NNPDF is grateful to all our supporters for their gifts. Your support is needed now more than ever. If you'd like to help us to continue to serve the needs of our families, we appreciate your generosity and commitment.
Fondly,


Joslyn Crowe, MSW, MA
NNPDF Executive Director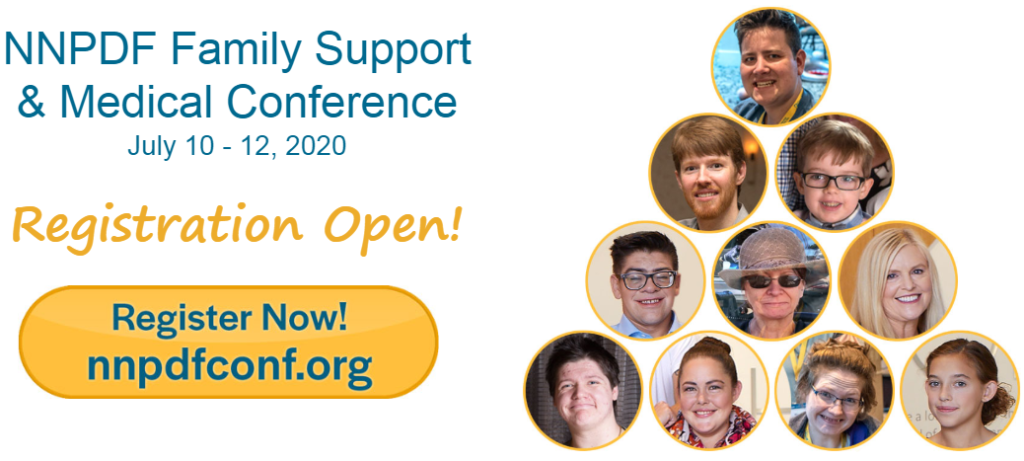 NNPDF in Action through COVID19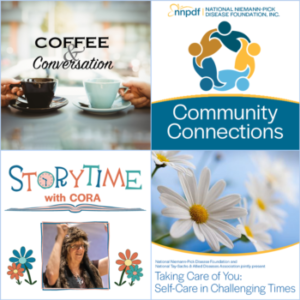 We have all​ experienced a new normal over the past couple of months as we adjust to various stay at home orders across the country. We've been apart due to social distancing, but by catching up through our NNPDF Community Connections Chats and Coffee and, of course, during Storytime with Cora, we've been able to spend time together every week! Special thanks to everyone that has been able to join us. Whether it was connecting during coffee time or sharing experiences during one of the NPC or ASMD chats, we have enjoyed seeing you and getting to know you better! Haven't had the chance to make one of the chats? Make sure to sign up now!
While it is great if you join us with video, don't worry if you can't – you can join our chats with audio only. Prefer to listen before joining in? Not a problem – we just hope to see you soon! Our Chats have been a great way to connect with other NNPDF members. We've shared ideas, tips, and resources, and it's been a great opportunity that will continue post-quarantine orders!
NNPDF Research Fellowship Applications

The NNPDF will be accepting Research Fellowship applications until June 1st. The Peter G. Penchev Niemann-Pick Type C Research Fellowship and the Edward H. Schuchman ASMD Research Fellowship are 1-year awards intended for early-stage researchers. These awards support young scientists in pursuit of independent hypotheses and encourage scholarly development about Niemann-Pick disease.
Niemann-Pick disease research is one of the pillars of our mission and we are proud that since 1993, NNPDF has funded 52 grants and 18 fellowships totaling over $4,000,000. Our fellowships and grants have contributed to the identification of disease-causing genes, insights into the pathogenesis of NPC1 & NPC2, support of the NPC cat model at a critical juncture, and development of an assay for newborn screening. Many former grantees and fellows have remained active contributors in the Niemann-Pick disease space.
Contact nnpdf@nnpdf.org with questions.
Help Needed for Niemann Pick Disease Type A & B (NPD A & B) / ASMD Research
Interested in sharing your experience as a patient or caregiver for a family member with NPD A or B? Participate in our survey.

The interview will be conducted on the phone at a time convenient for you and will take ~60 minutes
During the interview, we would like to discuss your story as a patient or caregiver: your experience with doctors, your diagnosis, your day-to-day life, and your hopes for future therapies
You will be compensated for your time, and your participation is confidential and anonymous
Note: this study is only for patients and caregivers not currently participating in a clinical trial
Ready to participate?
To learn more about how you can participate in this research, contact Eli Leavitt: eleavitt@trinitylifesciences.com or 1-781-577-6392.
Your responses will directly help a healthcare company make more informed decisions relating to the treatment of NPD A & B.
Conan Donnelly
Registry Manager, INPDR
Tell us a bit about yourself, such as where do you live and what do you enjoy doing.
I am from a rural part of County Armagh in Ireland, I am the youngest of a family of eight. I am married to Anna and we have four children, three boys (Eoghan, 11; Michael, 6 and Gerard, 4) and our daughter (Roisin, 9). Anna and I are both identical twins which is a bit unusual and is something that prompts lots of questions! In my spare time I like to run and cycle, I am actively involved in a local cycling club and have organized and participated in many cycling races and charity cycle events over the years.
How did you get involved with Niemann-Pick disease?
I joined the International Niemann-Pick disease Registry in March this year as Registry Manager, I started my working life as a government statistician but found my true calling in 2009 when I moved to work in the Northern Ireland Cancer Registry where I earned my PhD in epidemiology and designed and ran several population health research studies. I have worked in disease registration for over ten years now and have seen firsthand the importance of patient reported and clinical data in improving survival and patients' quality of life. I am very excited to take what I have learned to the INPDR to help support research to improve the care and outcomes of Niemann-Pick patients ​and their families.
Why is the INPDR important to the Niemann-Pick disease community?
All clinical care planning and health research depends on high quality data, but for a rare disease such as Niemann-Pick disease, it can take a long time to collect enough data to produce evidence to demonstrate effectiveness of new therapies or to identify best practice in care. This is further aggravated by the diversity in the genetics of NPD which makes it more difficult to understand the nature of the disease and to observe significant results in clinical trials. By collecting information from both clinicians and patients in a single international registry, the INPDR provides a resource that can accelerate research activity by making datasets available to address previously unanswerable questions, it can support faster recruitment in trials and provide data to facilitate post-market monitoring of drugs for safety and efficacy purposes. 
Like other rare diseases, NPD patients and advocates face challenges in having their voice heard ​by decision makers in society. By routinely documenting the global NPD patient experience, the INPDR can act like a mirror to the NPD population and shine a light on the needs and priorities of patients.
What makes this Registry different from other patient registries?
There are a few fundamentals for any registry:  First and foremost, we must protect the safety of our patients' data. The INDPR has robust processes and systems in place to ensure that access to identifiable data is tightly restricted and carefully controlled. But there is no sense in collecting data if it isn't used​ ​to benefit the Niemann-Pick community. The INPDR data is not just available to a selected group of researchers, we have processes in place to safely share data to the wider NPD research, advocacy and clinical community. This way we can act as a cohesive and unifying resource that can really maximize research impact.
It is also critically important that the data collected by the registry is a faithful representation of the NPD patient experience. As patients have played a central role in the development of the registry since its inception and can routinely contribute to the patient reported database, we are confident that the with continued meaningful patient involvement the evidence produced by the INPDR will truly reflect the NPD patient experience.
How can families learn more about the INPDR or register themselves or their family members?
It is very easy to join the INPDR, simply visit our website inpdr.org and click 'sign up'. The website also contains further information and FAQs. If you have any questions or queries about the registry, I am very happy to answer emails or have a chat over the phone or via video-conference. ​You can also connect with us via Facebook and Twitter. In addition, we are very much looking forward to participating in the NNPDF conference on July 12th. This is a great opportunity for us to meet many community members and to share information and answer questions about the INPDR.
NNPDF Pyramid Challenge 2020
Join the NNPDF Pyramid Challenge 2020! Just a few days remain to participate and be entered in a drawing for one of 3 $50 Amazon Gift Cards! Drawing will take place June 1st! REMEMBER TO TAG #NNPDFPyramidChallenge2020 and @NNPDF to be entered!
Research Opportunity for NPC Families: A Call for Participation
The NPC Community is engaged with a multi-disciplinary stakeholder group focused on adding NPC to newborn screening lists across the country (See Firefly Fund's newborn screening initiative.) Since adding NPC to these lists would mean that all newborns would routinely be screened for this rare disease, it's essential to demonstrate that intervening earlier in a patient's disease progression is better and critical to improved health outcomes.
Within our small patient community, one way that leading NPC experts believe will help us tell this story is to look at families with multiple affected children.
Why is that? Often these families will have a child who, following significant symptom onset, is ultimately diagnosed with NPC. This diagnosis will trigger specific NPC testing of another child of the same family who may be diagnosed before the onset of visible signs and symptoms. NPC expert clinicians believe that if we are able to describe the different diagnostic and clinical journeys of these children – based on timing of intervention – we could have powerful evidence demonstrating the benefit of screening for NPC at birth, and the criticalness of earlier intervention.
What will we need for this research? 1) We will need to identify families with multiple children affected with NPC, both those who are currently living as well as those who may have passed. 2) An independent third party, RDMD, is providing a secure virtual filing cabinet for de-identified medical records from NPC families so that NPC experts can analyze the data in a effort to determine: a) how closely the course of disease is similar and b) what affect the timing of an intervention has on progression of disease.
Would you like to participate or like additional information? Please contact nnpdf@nnpdf.org and we can provide some more detail and discuss how you might partner with us on this important project. Thank you!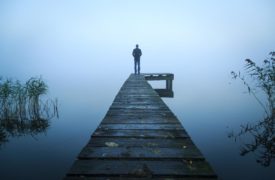 Author C.S. Lewis, when musing on the death of his wife, described grief as "a sort of invisible blanket between the world and me." For most, the invisible blanket Lewis describes eventually is lifted; for others, it grows ever heavier. Grief, by its very definition, is a severe emotion felt deeply and broadly. In the face of tragedy or loss, it is expected to feel devastated and overwhelmed.
When feelings of grief persist for a significant amount of time, though, and when they impair your everyday life, this everyday emotion can lead to a disordered way of thinking and living. The Diagnostic and Statistical Manual of Mental Disorders (DSM), which classifies mental disorders in the U.S., is in the process of classifying "Prolonged Grief Disorder" as a depressive disorder. This means that one can be clinically declared as impaired by their grief, and may have significant trouble moving forward following a tragic loss. Those with Prolonged Grief Disorder, or PGD, would have an intense reaction to their loss, mourning for a period of time that stretches much longer than what is seen as normal. They may feel lost and purposeless, intensely lonely, guilty, sad, or angry, or may display a marked sense of disbelief concerning the loss.¹ They are suffering to a degree that is impairing.
This is not to say that there is anything wrong with grieving; grief is a healthy and normal reaction. Rather, the clinical term and diagnosis can help those who are suffering to deal with their loss and to find a way of moving forward. Though the DSM hasn't officially classified PGD as a disorder yet, researchers and psychologists have already found many valuable treatments that can help people suffering from prolonged grief. Many such treatments are cognitively based, and are especially focused on interpersonal therapy. Talking through one's grief can help to deal and come to terms with the trauma they have experienced.²
Caregivers and family members of those who are chronically ill can be disproportionately at risk for developing PGD. Chronic illness and rare diseases, like Niemann-Pick disease, and all that they entail can overwhelm daily life, and it may be hard to move forward following a loved one's passing. It is important to take care of yourself and to establish a reliable support system.
Are you experiencing any feeling as described above?  We're here for you. NNPDF offers family services programs to help develop support systems. Groups of different types take place weekly, and of course we are always here to talk or just listen – any day of the week. For more information on ways to connect, visit our upcoming events page.
[1] Jordan, Alexander H., and Brett T. Litz. "Prolonged Grief Disorder: Diagnostic, Assessment, and Treatment Considerations." American Psychological Association , www.apa.org/pubs/journals/features/pro-a0036836.pdf.
[2] Weir, Kirsten. "New Paths for People with Prolonged Grief Disorder." American Psychological Association , www.apa.org/monitor/2018/11/ce-corner.
NNPDF Announces Additional Support for its Emergency Hardship Program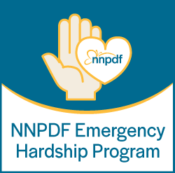 Firefly Fund's contribution will assist additional families in need
We are pleased to announce the Firefly Fund has become a donor to NNPDF's Emergency Hardship Program. Our Emergency Hardship Program is open to US Niemann-Pick disease families facing an acute financial problem. It is supported by community donations, as well as partners including Cyclo Therapeutics, Firefly Fund, Mallinckrodt Pharmaceuticals, Orphazyme, and Sanofi Genzyme.
"Many families in the Niemann-Pick community are already facing financial pressures associated with battling a rare disease. The economic and medical stressors compounded by the COVID-19 pandemic increase the need for, and use of, our emergency fund. The Firefly Fund's commitment to NNPDF will help us provide relief to additional Niemann-Pick Type C families and help ease the burden families are facing," stated Joslyn Crowe, NNPDF Executive Director.
NNPDF's Emergency Hardship Program funding provides short term financial assistance in a crisis situation. Funding is available for up to $1,000 per calendar year per eligible member. Families with multiple children with Niemann-Pick disease are eligible to apply for each affected individual. Funding includes but is not limited to, specialized medical equipment, durable medical goods, utility bills (heating, cooling, electricity, phone, water and sewer), home and car repairs, rent and mortgage payments, and bereavement expenses.
"Chris and I understand first-hand the many burdens that come with a rare disease diagnosis such as Niemann Pick Type C. As we all adjust to recent burdens experienced as a result of the global pandemic, the Firefly Fund is committed to supporting families through our Patient Access Fund with a grant to the NNPDF's Emergency Hardship Program. This NNPDF program is filling a critical need that is an important resource for NPC families," Pam Andrews, Co-Founder, Firefly Fund. 
Click here to learn more about our Emergency Hardship Program or contact Laurie Turner, Family Services Manager.
It has been a hectic month for the INPDR.
We are making progress to support the clinical centres in the US to begin consenting patients and data entry into the Clinician Reported Database.
We are also working on several projects to set out our future strategy and undertaking operational work to make sure safety and security is verifiably of the highest standards.
Last month we explained that we had been working on reactivating existing accounts in the Patient Reported Database (PRD). This process is ongoing, but we are urging patients who have not already to sign up now.
You can be part of the patient power within the INPDR without having to leave your home by signing up. You can provide consent and add data online through our website.
You can visit www.inpdr.org to find lots of helpful information and to sign up to the PRD.
We have started a campaign through our social media channels to help patients and their families understand more about the INPDR, from how the Registry works to our aims and objectives, from learning more about our trustees to meeting the team working in the background to make those objectives happen. Hopefully you have seen some of our posts but if not, you can follow us on Facebook and Twitter to learn more.
We hope you enjoy reading a bit more about Conan Donnelly, our new Registry Manager, in the newsletter this month. Conan is already making a positive difference to the INPDR as we take steps to ensure the sustainability of the Registry, which will ensure we can achieve our objectives and bring about research and positive change for the Niemann-Pick community.
Furthermore, we are excited to take part in the NNPDF Family Support and Medical Conference. You will get to 'meet' Conan as well as some familiar faces. We will be offering an informative session and hope to be able to answer any questions you might have about the INPDR.
The INPDR has already had some fantastic support from the NNPDF and it is exciting to continue working together. Even though we cannot meet face-to-face for now, technology is on our side and there are still opportunities for you to make a difference and unlock the patient power within the registry.
Clinical trials are currently in progress to study and develop treatments for ASMD and NPC. The NNPDF posts new information regarding clinical trial updates as soon as it is received. Visit our Clinical Trials web page for up to date information on all clinical trials.
Updates from Cyclo Therapeutics:
Cyclo Therapeutics Inc. announces positive top line results from Phase I Trial and Interim Analysis of Phase I/II trial using Trappsol® Cyclo™ intravenously to treat patients with Niemann-Pick disease Type C1. Click here for complete announcement.
Cyclo Therapeutics holds call for patients and investors. Click here for complete announcement.
Cyclo Therapeutics announces positive feedback from European Medicines Agency on its pivotal trial design for Trappsol® Cyclo™ for Niemann-Pick disease Type C1. Click here for complete announcement.
Fundraising & Awareness Opportunities

Contributions through fundraising by NNPDF members, families and friends are used to provide services and information to individuals and families affected by NPD, as well as supporting research into finding treatments. Please continue to host and support NPD fundraisers. Awareness Events promote awareness to the general public about Niemann-Pick disease. Click here to view current and past fundraising and awareness events.
Facebook Fundraisers
THANK YOU to those of you who have already hosted a Facebook Fundraiser! Are you interested in hosting? It is a great opportunity to raise awareness and funds for the NNPDF. If you are hosting a Facebook fundraiser please email the NNPDF Central Office at nnpdf@nnpdf.org to let us know.
Jamberry Niemann-Pick disease Nail Wraps
Show your support in the fight against Niemann-Pick disease with these custom Jamberry nail wraps. 30% of all sales will be donated to the National Niemann-Pick disease Foundation for family support services. Click here for ordering details. Available year round.
Have you hosted a fundraiser for NNPDF recently?
Send us your photos and we'll share them and details from your event in upcoming newsletters!
A quick reminder that if you are not receiving our NNPDF monthly newsletter via email or have recently changed your address or email, please click here to join us or to update your information.
Supporting one another. Supporting our community.