Barbara Lazarus – I am a lifelong resident of Connecticut, married Mom of two adult sons and a semi-retired speech-language pathologist working with young children. To relax, I enjoy baking, reading and hiking.
Traditions 
A medical event that happened many years ago in our family introduced to us the concept of "the new normal". I had not heard this term before and it resonated at that time in our lives when there were adjustments to be made and changes to deal with. At the time we were raising two teenage boys, dealing with aging parents and my husband was running a business which, in itself, is challenging so when this was added we took a collective breath and forged on, knowing that eventually we would adapt and fall into our "new normal" routine.
I bring this up because that is often how I feel about this NPC journey we are on, most especially during the Holiday Season. When our sons were first diagnosed, and we were coming to terms with the changes this would bring, I went through a gamut of emotions (and sometimes still do) from disbelief to anger to sadness to (almost) despair. I try to mitigate these feelings and I'm usually successful but when October – November – December rolls arounds, it's a bit more challenging. For our family, as for many others, these months are filled with events including birthdays (lots of birthdays), Thanksgiving, Christmas and New Year's. Naturally, along with these comes traditions and our family is heavy on tradition. In the first year following diagnosis (AD as I refer to it, After Diagnosis) my husband and I often found that we didn't want to go through all of the normal things we usually did. The anger and sadness around getting together and celebrating with others, who sympathized but could never truly understand how our lives had been altered, was often just too much and we chose to withdraw. But as we adjusted, we realized that we would have to find our "new normal" around this as well; so we are working on it. I'll share some examples.
One big celebration we have at our house is an annual pumpkin carving party, started many years ago when my kids were young, and everyone bought them pumpkins…so many pumpkins. That year I decided to gather the neighborhood kids and adults and let them have at it and a tradition was born, some years with big parties and others very small. We've persevered through teenagers, college years, health scares, new family members and this year's Covid Carve. Things have changed along with our feelings and this year was much, much smaller but at year 28, we decided we need to celebrate what we have when we can and so….
THEN….
NOW….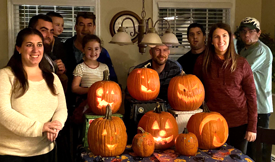 Christmas Eve has always been about getting my husband's family together to celebrate the traditional Italian way, with Aunts and Uncles and nieces and nephews and cousins. The kids always had a great time at my sister-in-law's with scavenger hunts, pass around games, and Christmas riddles. But in 2017, we just couldn't bring ourselves to share in the joy, as there was just so much sadness with seeing cousins moving on, getting married, having children that we weren't ready to face. So, we decided to give ourselves permission to try a new experience and maybe make some new memories. Rockefeller Center and Little Italy added to the list! We are still learning how to manage our emotions and feelings around these holidays and traditions but have come to understand that it is important to grab all the celebrating we can while we can, so we persevere – just like the NNPDF motto – develop our "new normal" and enjoy the moments as best we can.
Happy Holidays!
Change of Seasons 
It is with so much reluctance that we leave summer behind and move on to fall and winter. Summer was good for the Lazarus soul this year. After spending months inside in 'lock-down', we were finally able to get outside and took every opportunity to live outdoors. Swimming in the pool, cooking on the grill, dinners on the deck, working in the garden, and eating all those things only Northerners truly enjoy in the summer like vine ripe tomatoes and corn on the cob fresh from the garden. And don't even get me started on lobster rolls and caprese salad! But time for pumpkin spice, scarves and nippy temps. (Okay so Starbucks pumpkin spice lattes help a little).
As we move into September and see all of the 'back-to-school' activities in this very strange time, I feel for all of the families that are dealing with hybrid, in-person, remote and every other combination out there. As a former public school SLP, I feel, too, for all those teachers and staff that are trying their very best to make it all work. But mostly I feel for "our" kids. The ones who can't access remote or learn through a 7 inch screen or need and crave in person learning. But back to doings in the Lazarus house which looks very different with adult children with no school to mark a new beginning.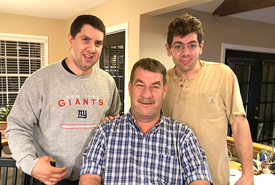 For us the change of seasons means (more) yard work but in cooler temps. It means more nights around the fire pit huddled under blankets til it gets just too darn cold!
And as we now enter the season of gratitude, I think about the things, but mostly people, we are grateful for the most in this journey.
Daniel has been able to get back to a routine of sorts with OT and PT and we could not be more blessed to have found Deb and Vito to help us along. They are so knowledgeable about this degenerative process but more importantly kind and patient when we all know how difficult that can be with a challenged adult. He has started back at the Rehab Gym with Rob, who brings a specific kind of knowledge as an exercise physiologist, but also knows firsthand the difficulties of managing a family with an impaired adult as he has a child with Prader-Willi Syndrome. And we have been fortunate to have an infusion nurse who is also all of those things and fun to be around as well. Kelly is competent, caring, thoughtful (bringing Daniel all kinds of sweets that she knows he loves but rarely gets!) and instinctively knows how to draw Daniel into a conversation – not an easy task these days with his language issues – especially when the infusion is 9 hours!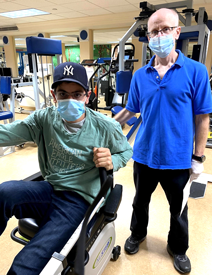 David has been fortunate enough to be accepted into the latest EAP available and we made a one-day family trip to Boston to begin. Again, the professionals we encountered, from the doctor to the nurses to the assistants were amazing in their kindness and attention. They made the anxiety around starting something new much easier and smoother, allowing us to relax, enjoy the day, and a rare outdoor restaurant dinner.
All of this has allowed him to continue to go for his daily drive which usually involves Axel and DD coffee. And to work occasionally with his uncle in construction, keeping him active and engaged. This Uncle has been another blessing for both boys as he struggles with seeing us deal with this horrible disease as a family but mostly as he sees the changes in the boys. Though he feels he is often at a loss to help, his weekly Sunday breakfast runs with them and his attempts to keep them moving allow us a little bit of breathing room from the constant supervision required.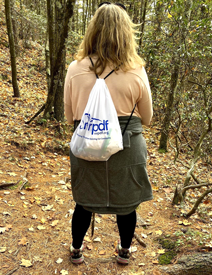 There are even times when we, as caretakers, are able to relax and breathe and regroup. I was able to do this with a group of friends recently spending time hiking, eating and laughing for a few days. We always hear "take care of yourself so you can take care of others" but rarely get a chance to do it. Gotta grab it when you can! (And thanks to NNPDF I was able to carry my lunch!)
So overall, though we don't look forward to being inside and cooped up for the next few months, we try to look at the positives in our lives. The most important blessings for us always come back to our families and friends, who are there to help in any way they can. As I think back on our journey so far, I am so incredibly amazed at the humanity and kindness and patience and thoughtfulness and care we have encountered so far and know that all of these people – the doctors, the nurses, the therapists and the helpers – have been placed in our path to make this truly devastating journey a little bit easier. I know from my interactions with others in this 'club', that that really is what helps us all get through the days – one at a time. Here's to a safe and happy change of seasons for all!
Silver Linings 
As with so many families during these unusual and unsettled times, the Lazarus family has stayed close to home, adjusting schedules and venturing out mostly for groceries and the occasional takeout meal. While retirement affords you lots of downtime at home, we were used to enjoying going to a movie, pizza at our local family restaurant, and even a yearly professional baseball game in New York (go Yankees!!). All gone this year with not a lot to look forward to with one exception. And quite the exception at that. Here's the story – and the adventure.
Over the winter, my son David was accepted for a short trial at the Mayo Clinic. We weighed the pros and cons of traveling to Minnesota in the winter (brrrr…) and decided, since he and I had the time and he was able to do something positive, we would go for it. It was only 5 overnight visits. What could go wrong besides snow, ice, delays? Well, none of that stopped us but then along came – you guessed it – COVID. We had 3 successful visits and we were getting used to the flights, the restaurants, and having some mother-son bonding time even if it was in the cold. We had scheduled our March and April visits, looking forward to a few warmer trips.
That all came to halt, and those two visits went virtual, but we knew we would have to make one last in-person visit to wrap things up and do the things that can't be done over a computer. We hoped for a June date but when I tried to book flights and hotels around the hospital appointments it soon became apparent that COVID had managed to make any reasonable trip time impossible. Unless we wanted to travel 20+ hours for a 2-hour visit, it wasn't going to happen in June. So, the project manager and I settled on a July date that seemed to work and left it at that. But the trial sponsor did not leave it at that. Apparently, the sponsor had a hard and fast deadline of June 30 in order to get all of the data and information in. When the manager called me the second week in June and said the sponsor wanted us there in June, I started to protest but she stopped me and said there was a proposal if we were willing to hear them out. I listened. And I could not believe it. They offered to fly David and me on a chartered jet from Connecticut to Rochester for the day! Just us, one day, out and back. Since we are not a corporate family, we had never flown on a private jet and, since we needed to meet our obligations and we didn't want to pass up our one chance to live it up, we went for it. They even flew us from the small airport in our town. Eight minutes from touchdown to our door. It was one for the books for us and such a great adventure.
Sometimes this journey has surprising twists and turns and though I wouldn't choose this path, some twists can have a silver lining – or at least one up in our own private clouds! (Oh, and for those of you of a certain age, I even had a Julia Roberts moment when the limo brought us right up to plane on the tarmac – just missing the gown and ruby necklace!)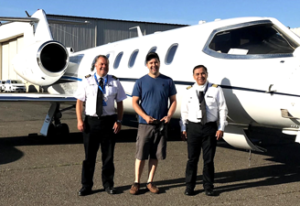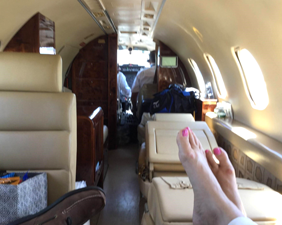 Turning Won'ts into Will's and Can'ts into Can's
by Barbara Lazarus
For so many of us on this NPC journey, the reality of our daily lives and the future seem, at best, uncertain and, at worst, bleak at times. When we received the diagnosis three years ago for our adult sons, one of our first reactions centered around the "won'ts" and "can't's". By this I mean we began to think of what our sons most likely wouldn't or couldn't do, see, or experience that most of us take for granted. Although they both graduated from college, we were faced with the alternate reality beyond that which included things like getting married, having children, owning a home, and becoming independent successful adults. For parents of younger diagnosed children, I'm sure that reality is even more upsetting as they face the uncertainty of all those childhood milestones and memories that potentially will be missed. Although we had not given up all hope on these things, it was time to adjust our thinking and we try to do this routinely, in big and small ways, as we move through this journey.
Turning "won'ts into a "wills"
Our younger son had always expressed the desire to have a German Shepard, but he knew that was a no-go in our house after we'd already had two family dogs as they were growing up. He would add "when I own my own home…" to the wish. Knowing this may not happen it was adjustment time…. we have now added our newest member of the Lazarus household, with all the benefits and tribulations that come with a new puppy and growing dog. Enter Axel. Although he is work, as all pets can be, he has added immeasurable joy and happiness to our family as we work together to train and play with him, laughing at his pool antics, his desire to be a "lap-dog" (at 90 lbs!) and reveling in his loyalty and friendliness. He has become a positive note in our sometimes not-so-positive lives. Glad we turned this one into a "will".
Turning a "can't" into a "can"
We look for ways daily to keep both guys active, especially in the age of Covid. Our older son has restarted his PT and OT sessions with the goal of getting back into the Fitness Gym and working on that balance and coordination. Our younger son works in construction part time, in a modified way, with a family member. Beyond that, we keep them both as busy as possible around our home. Most recently, we needed their manpower to help with a large branch that came down in the front of our yard, blocking traffic. Took this team of three to get it cleaned up, supervised all the way! Look for the "cans" and try not to dwell on the "can'ts"!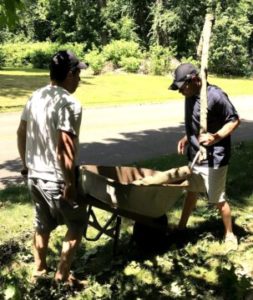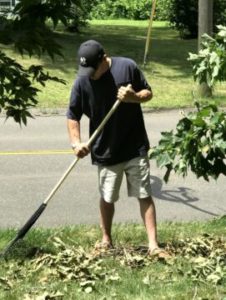 Lemonade from Lemons
by Barbara Lazarus
"Lemonade from Lemons", "Live in the Moment", "One day at time". We've all heard these mantras or cliches and have tried to use them in our everyday lives. I know I did, especially as I grew older and my sons left home for college. Little did I know that their true meaning was lost on me. That is until our family received the NPC diagnosis on, not one, but both of our adult sons, our only children. But, as time went on and as the shock and despair eased just a little, I began to recalibrate to our new normal. Along with that came a new perspective on our daily lives and I began to truly understand just exactly the meaning of each of those sayings. So, "Live in the moment" also became "Seize the day!"
For example, on a sunny summer day, a few months pre diagnosis, relaxing in our pool in Connecticut with my younger son, who was experiencing what we believed were serious mental health issues, I casually asked "If you could go anywhere in the world, money is no object (I wish!) where would it be?" I fully expected to hear him say Australia or New Zealand or Japan. But no, his response was "California". I was surprised but thought, 'that's more doable". So,months later, post-diagnosis, in the spirit of seizing the day and living in the moment, when we began to explore options for treatment and the first one that we came upon was a newly opened trial in – you guessed it – California, requiring us to spend weeks at a time out there, as a family we decided to make the most of our free days and begin to create some lasting memories. We explored, enjoyed and appreciated all those new places and began to feel that, although this diagnosis can never be good, maybe there can be just a little bit of positive in there too. And so, a little glimpse of our California experience:
Supporting one another. Supporting our community.