Adult Onset Niemann-Pick type C (NPC)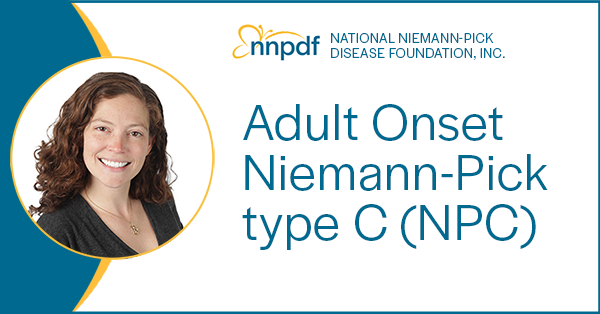 Symptoms of Niemann-Pick disease type C (NPC) can vary widely. In many cases symptoms first appear early in life. However, for a subset of patients who have adolescent/adult-onset NPC, symptoms might not appear until much later. In efforts to help patients and caregivers manage NPC and access the support they need; it is important to understand some key issues related to adult-onset NPC. 
Symptoms
In infancy and childhood, NPC most often presents through physical symptoms such as yellowing of the skin or enlarged liver or spleen. In adult-onset NPC, however, many patients first experience neurological symptoms. These symptoms can lead to difficulties with coordination such as walking, eating, and talking and difficulties looking in a vertical direction. In many cases, people living with adult-onset NPC are first considered to have a mental health condition such as schizophrenia or manic-depressive or bipolar disorders. The differences in symptoms between children and adults can make adult-onset NPC very difficult to diagnose; many patients seek medical care for years before receiving an accurate diagnosis. By raising greater awareness of the symptoms of adult-onset NPC, we can help more patients and families to access the appropriate care they need as quickly as possible.
Support
While living with a rare disease can be difficult for anyone, people and families of adults living with NPC can face severe challenges that affect their emotional and mental well-being. Before symptoms appear, many people living with adult-onset NPC appear relatively healthy and are able to take part in daily activities including exercise, socializing, working and caring for their families. The onset of symptoms, however, can mean that patients decline and lose the ability to work and care for themselves or their families. Symptoms can also lead to emotional challenges and feelings of confusion and frustration. In developing a care program, it is often essential to help patients take steps to manage both their physical and emotional symptoms.
In providing support, it can often be helpful for patients and caregivers to hear from other individuals and families affected by adult-onset NPC. NNPDF board member Cara Gilmore was diagnosed with adult-onset NPC in September of 2019 and is involved in many different efforts to help patients connect to share information. She has participated in media interviews and works with physicians and advocacy groups across the country to help raise awareness. To learn more about her story or to connect with Cara, please visit the resources below.  
NNPDF Resources
NNPDF is dedicated to supporting all people who are living with NPC. We are committed to building broader awareness of adult-onset NPC in both the medical community and among the public. By doing so, we can help more people obtain an accurate diagnosis sooner and then help them get the treatment and support they need. If you or someone you know has started experiencing symptoms, we have a range of resources that can help, including information to help you find a doctor as well as options for financial support. If you have been recently diagnosed with adult-onset NPC, there are also many wonderful individuals and families who work with NNPDF to share advice and support as you navigate this journey.
Our annual Family and Medical Conference is a perfect opportunity to meet with other patients and families who understand the challenges of living with adult-onset NPC and who can share helpful information or just be there to listen. For more information on our conference, please visit this link. At NNPDF we are also continuously working to support research that can lead to new treatment options for people impacted by NPC at any age and we are continually working to expand the resources and services we have to help. For information visit our website or contact us directly at familyservices@nnpdf.org. We are here to help.
Supporting one another. Supporting our community.