Vote for Coach Matt Painter to win $100,000 for NPC Research!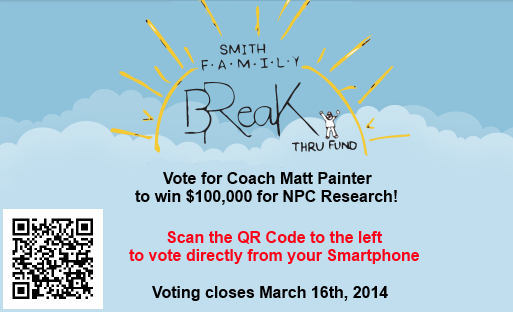 Dear NPD Community,
To help raise awareness and make it easier to vote, we've created this card. It can be shared online, or printed for handing out at sporting events or fundraisers.
We've created a custom QR code, which when scanned by a smartphone will take you directly to the voting web page! All you need is a free QR scanner, typically found in your phone's app store (Google Play, iStore etc.). It's instantaneous access to the voting page!
We're also sharing this on our Twitter account, so share this link across your Facebook & retweet it on your Twitter to help get Coach Painter to the # 1 spot!
If you'd like the original quality image for printing, e-mail nnpdfoffice@idcnet.com and we will send it along.
Alone we are rare, together we are strong!