Shopping Countdown to Black Friday ~ Day 3 ~ Willow Wicks!

Lisa Chavez, of New Mexico and Mom to Breann (who passed away in 2006 at age 3 from NPC), hand-crafts the special PERSEVERE candles to benefit the NNPDF.
A Whopping 40% of the total sale cost for these items will be donated directly back to the NNPDF!
Wow ~ what a GREAT way to give a wonderful gift and support the NNPDF to boot!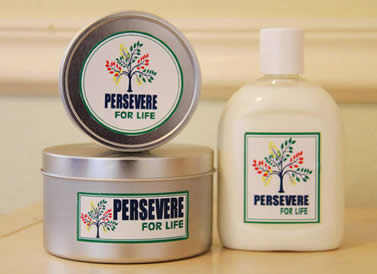 Just in time to help with your holiday gift giving, Lisa has created a NEW "PERSEVERE for Life" line of hand-crafted products including both candles and lotion! For those who have had the opportunity to attend the NNPDF annual family conferences and are welcomed into the large conference session rooms by the warm, beautiful scent of the memorial candles ~ these candles are made with the same comforting warm aroma ~ Butterfly Kisses.
~ From Monday, November 18th through Wednesday, November 27th, the NNPDF will be highlighting one Holiday Gift Giving option a day leading up to "Black Friday" ~ November 29th ~ to show how easy it is to find the perfect online gift for a loved one while benefiting the NNPDF!
Please pass along these links and ideas to your extended friends and family a-like and check back daily for new ways in which you can help give the gift of hope this holiday season!
Stay tuned for Thursday's post ~ it will prove to be a REAL STOCKING STUFFER ~ as we take a closer look at the
Persevere Wristbands
.